Spelling:
Accomodating Brocolli in the Cemetary, Or, Why Can't Anybody Spell?
Vivian Cook.
Arthur's Teacher Trouble,
Marc Brown.
(On You Tube:
http://www.youtube.com/watch?v=5MqDG3XvrUI
)
There's also a software program of the same name that helps teach reading, spelling, and vocabulary skills....
A Bee in Your Ear,
Frieda Wishinsky.
Cheese Please, Chimpanzees: Fun with Spelling,
Tracy Traynor.
Happy Valentine's Day, Miss Hildy!
Lois Grambling.
In Trouble with Teacher,
Patricia Demuth.
It's Time for School, Charlie Brown,
adapted by Judy Katschke.
Silent Letters Loud and Clear,
Robin Pulver.
What Rhymes with Snake?
Rick Brown.
Word Wizard,
Cathryn Falwell.
I can Spell Words with Letters,
Anna Nilson
And for your spine, or main spelling resource book of lists:
McGuffey's Eclectic Spelling Book, 1816-1896.
Grammar:
Chicken in the City,
Maria Fleming.
How to Speak Politely, and Why,
Munro Leaf.
The Mega-Deluxe Capitalization Machine,
Justin Martin.
The Mystery of the Missing Socks,
Justin Martin.
The Planet Without Pronouns,
Justin Martin.
Woe is I jr.: the younger grammarphobe's guide to better English in plain English,
Patricia O'Conner.
Behind the Mask: A Book about Prepositions
, Ruth Heller.
Fantastic! Wow! and Unreal!: A Book about Interjections and Conjunctions, Ruth Heller.
Kites Sail High: A Book about Verbs,
Ruth Heller.
Many Luscious Lollipops: A Book about Adjectives,
Ruth Heller.
Merry-go-Round: A Book about Nouns,
Ruth Heller.
Mine, All Mine: A Book about Pronouns,
Ruth Heller.
Up, up and Away: A Book about Adverbs,
Ruth Heller.
Hairy, Scary, Ordinary: What is an Adjective?
Brian P. Cleary
On the Go: A Book of Adjectives,
Betsy Maestro
A Mink, A Fink, A Skating Rink: What is a Noun?
Brian Cleary
Just one More,
Michelle Koch
Your Foot's on my Feet! And Other Tricky Nouns,
Marvin Terban
Dearly, Nearly, Insincerely: What is an Adverb?
Brian Cleary
A-B-C ing: An Action Alphabet,
Janet Beller
The A to Z Beastly Jamboree,
Robert Bender
To Root, to Toot, to Parachute: What is a Verb?
Brian Cleary
Add it, Dip it, Fix it: A Book of Verbs,
R. M. Schneider
I Think I Thought and Other Tricky Verbs,
Marvin Terban
Verbs, Verbs, Verbs: The Trickiest Action-packed Words in English
Terrific "spines" for grammar work:
First Language Lessons
, Jessie Wise;
Primary Language Lessons
and
Intermediate Language Lessons
, Emma Serl.
Math:
One Guinea Pig is Not Enough,
Kate Duke. (counting from one to ten and ten plus ten makes twenty, to introduce counting by tens).
Just Add Fun!
Includes skip counting and making change.
Pigs go to Market, Halloween Fun with Math and Shopping,
Amy Axelrod. Introduces multiplication and a little measurement.
The 100th Day of School!
Introduces activities to encourage counting to 100.
(free mini-book for 100th day activities:
http://minibooks.scholastic.com/minibooks/detail/?id=36334
)
Midnight Math
, Twelve Terrific Math Games, Peter Ledwon and Marilyn Mets. (Uses a deck of cards, dice, and other household items to help you brush up on basic math skills.)
Amanda Bean's Amazing Dream
, a Mathematical Story, Cindy Neuschwander (a story about multiplying; math activities included at the end of the book).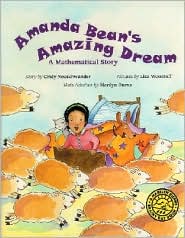 (Lesson plan:
http://teacher.scholastic.com/products/classroombooks/popups/product/marilynburns-AmandaBean.htm
)
Pigs in the Pantry, Fun with Math and Cooking,
Amy Axelrod (covers capacity measurement facts).
Pigs will be Pigs
, Amy Axelrod (book about adding up money amounts).
Alexander, Who Used to be Rich Last Sunday
, Judith Viorst (book about subtracting money amounts from $1).
(Lit guide:
http://www.learningtogive.org/teachers/literature_guides/Alexander.asp
)
Jelly Beans for Sale
, Bruce McMillan (book about adding small amounts of money, pennies and dimes).
Pigs on a Blanket, Fun with Math and Time
, Amy Axelrod (book about time measurement).
The Big Buck Adventure,
Shelley Gill
Dinosaur Deals,
Stuart J. Murphy
The Sundae Scoop,
Stuart Murphy
What's a Pair? What's a Dozen?
Stephen Swinburne
Math Appeal: Mind-stretching Math Riddles,
Greg Kang
Adding it Up,
Rosemary Wells
Mathematickles!
Betsy Franco
If I Were Bigger than Anyone and Other Poems,
selected by Lee Bennett Hopkins
What's in a Number: A Collection of Poems,
illustrated by Sue Heap
Abu Ali counts His Donkeys: A Folktale from the Middle East,
Dorothy Van Woerkom
One Grain of Rice,
Demi
How Many?
Rick Walton
Number Art: Thirteen 1 2 3's From Around the World,
Leonard E. Fisher
Terrific "spines" for math work:
Singapore Math; Life of Fred; Russian Math 6
....