My son wanted to do half days this week while he older brother was home from college on spring break. We couldn't do that every day because of outside classes that were meeting, but I was okay with the idea - he still got most of his regular written work done, still attended his outside classes, and did a tiny bit of reading. We have a trip to Baton Rouge planned soon, and I know the reading can get caught up on the long trip, so no worries in that regard.
I won't bore anyone with the details of our same old routine in most of our subjects. We're not really covering anything different in those areas. He did complete all the new topics we're going to cover this year in vocab. He will do corrections and review word lists for the remainder of the year. He will soon complete his Greek book as well (week 30) and then we'll be reviewing and completing corrections in it, as well.
My son did complete his pottery project from art class. He only has one more class and this will be his last session of art this year. Finally, he had a pottery piece that fired without a crack, so I was happy for him. He's already used the mug, too! I hope he makes more of these in future, as I love them!
He also completed a geography puzzle just for fun that was in a DK pack we were using for the last time before giving it away. I don't know if DK even makes these sets any more....
And of course, I am told that I must share a shot of him with his cat, the diva of the house, so fat she skips when she walks.....
We were mostly finishing up reading this week that we'd already started and that I've already posted about, but he did read
The Story of Johnny Appleseed
, Aliki this week. He also read the SOTW chapter on the opening of the West and outlined one section of it (Tecumseh). We also caught up in our SOTW related map work.
And I did begin our poetry study that I posted about separately. I read a piece about why poets might write anonymously, went over some elements of poetry analysis (which we'll do more on next week), and read the anonymous poems from our anthology. Some of these were poems he had memorized in past and he was happy to hear them again. We'll be discussing these more next week and then moving into study of several Japanese poets of the early modern period. As I mentioned before, we are using this book as our "spine" for the study: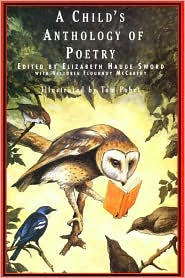 Many, many poems of the authors I have listed in my study are also available online, so poetry is easily accessible these days if you have internet access!
Back to our regularly scheduled programming next week. It will be the last week of his co-op, save for a make-up PE class missed due to snow troubles. That will free up more time for us to catch up on our work at home prior to the end of the year!
Regena
Messin' around with big brother....