Well, with the darker days, I'm seeing a return of my son's anxiety problems. I was hopeful that last year's problems were just hormonal and wouldn't return this year at the same time, but they're back.... So we had a bit of a crisis this week, but I'm hopeful that he's pulling out of it now. I've got some recommendations for some things to try to help him with seasonal problems and I'm hopeful those will work out well for him.
We attended a fun afternoon workshop this week where all of us (literally all, as the moms got drawn in too, LOL) made colored glass suncatchers/ornaments. We've left them to be fused in the kilns and will pick them up shortly. I'm very excited to see how both our projects turned out (he did a dragon)!
All his classes are proceeding well. He has been working on an essay on the Yukon Territory, its geography, climate, and culture, which he will turn in on Monday. They are going to work on some short stories in class on Monday and then be homework free over the Thanksgiving break (yeah!).... He's out of algebra next week, too.... We just attended our end of semester co-op get together and that was nice....
Here are some books we've been reading this week:
He continued with
The Yearling
and is working on finishing up
Bold Leaders of World War I
. He read three more chapters in volume 9 of
History of US
, as well as three more chapters in
Story of the World
. He read
Kids' Discover: Titanic
.
http://www.kidsdiscover.com/product/104/TITANIC
I'm almost finished with
The Yanks are Coming
. I started a Reader's Digest condensed version of a book I read as a child that I wanted to cover before we went completely away from the late 1800's:
The Johnstown Flood
, David McCollough. I finished up readings related to WWI from
The Encyclopedia of the US at War
. I read more on the time period (worldwide) from Haywood's
Atlas of Past Times
(I LOVE this book!).... And I read more on personalities of the time period from
First Facts About American Heroes
, David King.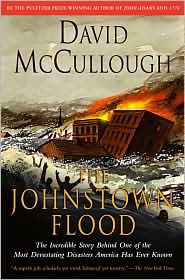 I think we will be ready to move on to discussions about the Bolsheviks and Fascism when we get back from our Thanksgiving break next week. I hope everyone has a good holiday!
Regena