My son started working through a book entitled Learning About States and Capitals, this week as part of his geography practice. I have him working on U.S. geography topics this year to supplement the world geo work that we do alongside SOTW. I don't generally mention memory work, as it's just a quick part of many of our subjects, but he's working on memorizing state capitals and state abbreviations. He also completed some longer written assignments for me this week from prompts included in the 50 States workbook that he just finished.
In
algebra
this week, he completed his homework for the week and also had a test to complete. We continued working with fractions and decimals in Russian Math at home.
For
Language Arts
, he continued with vocab and grammar.
Memory work
in grammar includes prepositions, some linking verbs, and helping verbs. He completed written work for his outside class regarding the book
After the Dancing Days
. She sent a grade card for his first semester's work and he was happy with that (I wish she graded harder....)
He completed two lessons in
Latin
, and I forgot to give him his quiz today! He completed another chapter in
Greek
and some grammar work in
Spanish
, in addition to his outside class.
Memory work
in these subjects includes, of course, his vocabulary (as well as alphabet in Greek) and some declensions in Latin and Greek.
He finished up reading some Asian stories from last week:
We've been reading about Colonial America during the time of the various Indian wars and the lead up to the revolution. He read SOTW ch. 21 and outlined one section. We caught up on some map work and activities from the SOTW activity guide, too. We also spent time reading about some famous folks from this time period and a few later topics, as they came up in our conversations.
Some of the books he read this week:
He also read
Daniel Boone, Frontier Hero
, by Elaine Raphael, which is a good beginning drawing book, and
George Washington Elected
, Allison Draper.
I read from our encyclopedias, and also a good piece on Colonial America from John Haywood's Atlas of Past Times.
I read from Places in Time regarding various places in America during the 1700's, and from Herstory, Ruth Ashby, et al, regarding Deborah Samson.
And I read an old library sale book find: Sam and John Adams, Susan and John Lee.
I began reading from
Benjamin Franklin's Autobiography
(very good!) and, lastly, I read through all the pertinent chapters of an old Kentucky History textbook, called
Frontier Kentucky
, by Robert Powell.
In Chemistry, he continued working through the activity book entitled The Atom, Pat and Barbara Ward.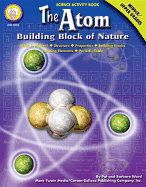 He completed the chapter on electricity in the
Tiner
chemistry book, since we're currently reading about Benjamin Franklin and he also began a book about Franklin and his electrical experiments.
He started reading through a middle school chemistry text entitled
Changes in Matter
(Mary Atwater, et al - Macmillan/McGraw Hill) and constructing an activity log for the projects and experiments included in it. He did the first chapter this week.
We read chapter 6 and half of chapter 7 in
Friendly Chemistry
, played some of the games that go along with the chapters, and he completed an orbital notation exercise.
Art class was cancelled due to a snow storm but piano work continued. He's going to participate in a themed recital in March regarding Hollywood Hits from musicals, movies, etc. so he's starting to get prepared for that. He participated in a review in his group guitar class.
Co-op was able to start this week, so he was involved in a new PE class as well as his soccer activities. We didn't go to his clinic on Tuesday night due to the snow storm that was in progress at the time....
I'm happy to officially be starting our second half next week!
Regena