~We went to see the Da Vinci exhibit at Frazier this week and it was terrific! I loved being able to examine closely replicas of so many of his creations (as well as handling some of them). We are doing physical science this year and just started working on simple machines. It was cool to look at all the different types of applications Leonardo found for the screw and the gear....
http://www.davincithegenius.com/
~The new P.E. class is a testosterone filled rush! I think it is going to be a great success....
~Trepidation over the try-out for Junior Company (a theater group) gave way to a great performance! We won't know whether or not he got in until next Wednesday....
~ New books this week:
Across Five Aprils, Hunt; Sing Down the Moon, O'Dell; listened to Jim Weiss tape Mystery! Mystery! with stories by Poe, Doyle, and Chesterton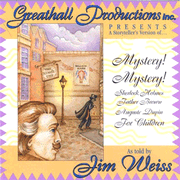 He just finished reading various Sherlock Holmes stories and I've got a book of Chesterton stories on hold (if the book ever gets returned - argh).... We'll be studying Poe and attending several events related to his works during October.... Did you know he invented the mystery story?
~ First soccer game of the season is tomorrow! (If the rain holds....)
Regena