Walkin' on Sunshine!
What? Don't you have kitty-cat breaks at your house?
Bubble, bubble, toil and trouble! Aren't the colors beautiful? And the formula for the color sequence leading up to a pop really does work perfectly, too!
Taking a little quiz at the kitchen table over terms used in the course of this study, as well as working a practice problem on calculating the volume of a bubble sphere....
He has been reminding me (vigorously) that I hadn't done a tea for him since he was very little. He is forgetting that I was involved in three large, group teas for a theatre group in which he and his brother were involved for several years when his brother was in middle school through ninth grade. I think he was a little jealous that I did a tea for our ladies' group at church last week. SO, I needed to use up the leftovers, anyway, and we didn't have to leave the house for any reason on Wednesday - tea time seemed like a win/win....
A good time was enjoyed by all. Tea in your pj's is always fun, isn't it?
PE class
he wanted to add, so we won't have time for this anymore for a while! He's such a social butterfly now that he has to talk on the phone during lunch. See that woven bracelet on his arm? A GIRL made it for him at theatre camp. She's going to audition for
JR. Company
(a year-long theatre group) along with him, too, so there will be MUCH more time for socializing.... OY....
What are we reading this week?
Roll of Thunder
....
Fighting Men of the Civil War
, William Davis
The Civil War: A Complete Military History
, Douglas Welsh
The Civil War: Gettysburg, The Confederate High Tide
, Champ Clark (Time-Life series)
"Gettysburg"
last night, also, so that he can watch it this weekend. He's gearing up for Perryville the second weekend of October. It's a national
re-enactment this year and he's excited....
Castle Under Siege!
Simple Machines, Andrew Solway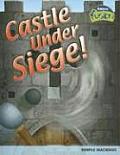 His fall
chemistry lab
began on Friday and they did chromatography work from the
Illustrated Guide
:
So that's our week - fall semester is almost in full swing! I'm still working on field trips, but those are falling into place, too.... Hope all is going well at your house,
Regena