This is very much a continuation from last week's work, so I won't duplicate a lot of the things I posted there.
For
Bible
work, he is continuing to listen to
"The World's Greatest Stories from the World's Greatest Book".
In
Geography
, he's continuing with the
50 States
workbook. We also caught up on map work from
SOTW
and
MapTrek
.
In
Reading
, I think I forgot to mention last week that he finished
Captain Kidd's Cat,
Robert Lawson. This week, he's been reading French fairy tales, mostly from Perrault, from various books, as we're reading about Louis XIV.
This is not what my copy looks like, but it is by Reader's Digest and is edited by the same person, Belle Sideman.... I regularly use this book for reading of fairy tales. I also always check out library copies of some of the tales that are beautifully illustrated, too. We adore good illustrations....
In
Math
, he attended his algebra class and completed his homework for that. He made a good score on his first test which was returned this week, so he was happy with that. We caught up in
Russian Math
with some problems we didn't have time to complete in all the craziness of last week. And we got our work done in that book for this week. I just do a couple of sections a week in that as review and drill to support what he's doing in algebra. We are using a Brown, Dolciani book for algebra, but it's not one from back in the 1960's. It's just one from the 1990's. Still, it's a good book....
Language Arts:
He's continuing with his work in chapter 3 of
Vocabulary for the College Bound
; continuing with
Easy Grammar
; and continuing with his
writing exercises
pertaining to the book
Blue Willow
, which his lit class is currently reading. He started on his
Route 66 project
and we have to run by AAA this weekend to pick up a Route 66 map for him to use in his presentation.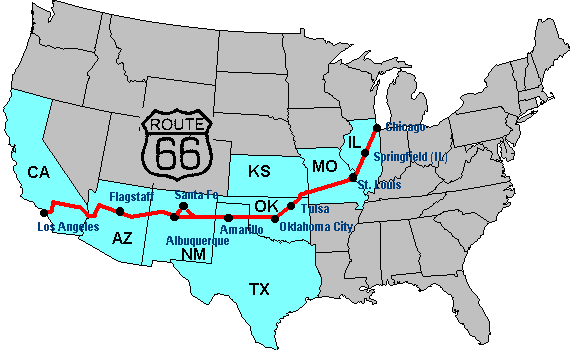 Here's one image we're using for his display board! And here's a great website about Route 66:
http://roadsidepeek.com/rte66/index.htm
Languages:
I was mistaken about him completing lesson 9 in
Latin Primer III
last week. He studied for the test one day, then took it the next. So this week he's done lesson 9, lesson 10, and today he worked on the crossword.
We caught up in
Greek
, yeah! He finished up week 12 work and we've reviewed and reviewed....
He attended his
Spanish
class on Tuesday. He has to check out a book from the library that's written in Spanish and read it to the class next week. He completed his grammar work in the Barron's book. He just finished up chapter 2 in that book.
Logic:
I
still
have not gotten caught up in that! I don't know why I always stall out at the review sections and can't seem to move through them. I wish I could find a logic program I truly like....
History:
We've been reading about Louis XIV and France this week, using the
Kingfisher
Encyclopedia;
Ten Kings
, Milton Meltzer (parental discretion advised); and
The Palace of Versailles
, James Barter.
We read through Calliope's "Louis XIV, The Sun King." (And I'm going to be using this teacher's guide to review it, next week:
He read chapter 13 of
SOTW
and outlined it. We did some work on his timeline book. As I already mentioned, we caught up in his map work. He read Usborne's
First Book of France
, Louisa Somerville.
I also decided that the book on Cromwell, English Civil War, and Puritans in the new world is just too important not to read all of it, so I'm continuing to slog slowly through that one, too.... It might go faster if I could stop commenting about it, LOL....
Literature:
I continued reading from books already begun and we added in
The Three Musketeers.
Chemistry:
He read The Elements: Silver, Susan Watt and The Story of Oxygen, Karen Fitzgerald.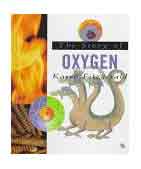 These both relate to themes we've been discussing since the beginning of the school year.





He continued in his Matter workbook. He's been finishing up note taking for his report on biochemistry and getting that written today. This child may be the death of me regarding his writing skills, or lack thereof.... But we're slugging along and I'm really, rilly trying to find things that he will like to do so that he's at least engaged in the attempt....

Here's the final outcome of his paper:

"Biochemistry is the method scientists use to explore what goes on in all living things. Many scientists have found cures for diseases by extracting molecules from animals and plants. For example, two scientists named Frederick Banting and Herbert Best developed the first cure for diabetes by extracting insulin from an animal pancreas. Another important breakthrough was when Dutch botanist Martinus Beijerinck was the first person to identify viruses.

Biochemistry is helping to cure fatal diseases such as leukemia and cancer. A woman scientist named Gertrude Belle Elion worked her whole life trying to find a cure for these two diseases. She eventually discovered a weak antidote for leukemia called 6-MP. It was later combined with other drugs that resulted in an 80% cure rate for that disease.

Biochemistry has also been used to make many scientific discoveries, such as when Melvin Calvin found that plants use photosynthesis to make their own foods. Calvin also used paper chromatography in much if his research.

Other examples of how biochemistry is used would be when Georges Cuvier introduced 'Phylum' to our animal classes; or when Gerty Radnitz was the first American woman to earn a Nobel Prize for her help with the cycle of carbohydrates. Biochemistry is all around us, and it is truly our past, present, and future."

(Guess I'll put it aside for a while and then work with him more on it late next week....)
And we did some of the experiments he picked out from the kitchen science book last week such as looking at how solids absorb liquids, looking at how carbon dioxide attaches to raisins in a soft drink, etc.
We did more experiments from Soda Pop Science Projects, Thomas Rybolt, this week, too, such as temperature and going flat; and creating bubbles with salt.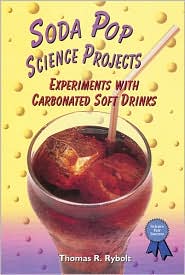 Art:

He was able to make it back to art class, hooray! He's doing some good perspective drawings (for him) and got the first glaze on his pot. They're getting their props and costumes together for the play they're putting on at the beginning of December ("No Room at the Inn" - a funny version of the nativity story).

Music:

He's been practicing extra well on both piano and guitar. His current pieces are coming along nicely. His guitar teacher just told him that it would be a shame if he didn't continue to study the instrument from someone because he picks it up so well and quickly. So now he's decided he will continue lessons next semester! He's working on a fact finder for his piano teacher as they do every year at this time (she always picks one composer on whom they focus for the fall term and this year it's Handel).

Physical Education:

He's in one of the best indoor soccer clinics we've ever had him in. I'm very glad we decided to try it. His indoor games start this weekend, too. His volleyball is wrapping up and he hasn't decided whether or not he will join the PE class the co-op is offering next semester, or not.

LEGO League:

They are back on track with their robots after a temporary glitch a couple of weeks ago. I hope that they are finalizing the skit they plan on doing to demonstrate their research work. (I really am trying to stay out of it, LOL!) They are looking at different types of artificial hands/fingers and postulating ways to improve grip and fine tactile feeling....

That's all for this week, I think,

Regena